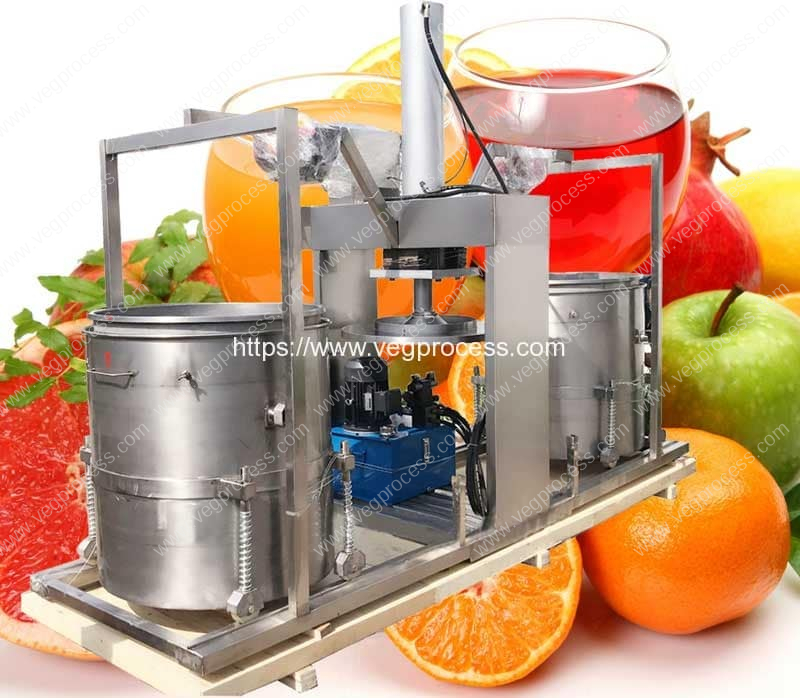 Hydraulic Type Juice Pressing Making Machine is used to make fruit juice or vegetable juice by hydraulic pressing. Hydraulic Juice Cold Pressing machine consist of body, support structure, pressboard, sieve tank, filter bag, hydraulic device, oil pump, electric parts.  It is mainly used for fruit juice extracting, vegetable dehydration and medicine juice extracting. Romiter Hydraulic Juice Pressing Machine has single barrel type, double barrel type and fully automatic type. Users can choose according to their different technical requirements. Nowadays, This Hydraulic Type Juice Making Machine has been widely used in watermelon, lemon, orange, pineapple, carrot, ginger, garlic, onion, apple, pear, mulberry, strawberry, leaf vegetables, herb, celery, etc.
Advantage Feature of Hydraulic Juice Pressing Machine
Hydraulic Juice Pressing Machine is made of special technology, ensure the stability and continuous pressing, make sure the average of dewatering.
The basket is produced by the one-time molding process, the inner face was finely polished, easy for washing and cleaning, ensure the safety and hygiene of juice. The barrel and pressing plate are all made of high-quality acid and alkali resistant 304 stainless steel.
The hydraulic cylinder adopts 4 sealing forms, greatly improving the service life of the oil cylinder, and simultaneously preventing the hydraulic oil from seeping out and polluting the food.
Double barrels design is interchangeable for loading and unloading and pressing materials so that the production capacity can be more than doubled. The device is easy to operate, durable, easy to maintain, large press force, and high production efficiency.
Specification of Hydraulic Type Juice Pressing Machine
No.
Model
Barrel Size
Hydraulic
Double Barrel Size
Single Barrel Size
Power
ton
mm
mm
kw
1
RM-HP50L
φ400*500
30
1200*642*1760
1100*530*1720
2.2
2
RM-HP100L
φ500*500
30
1300*736*1760
1200*714*1720
2.2
3
RM-HP100L-D
φ500*500
30
2000*736*1760
1900*714*1720
2.2
4
RM-HP150L
φ550*600
30
1550*736*2010
1500*726*1970
3
RM-HP150L-A
φ550*600
30
1800*736*2010
1750*726*1970
RM-HP150L-DA
φ550*600
30
3030*736*2010
2940*726*1970
5
RM-HP200L
φ600*700
50
1600*836*2210
1550*826*2170
4
RM-HP200L-A
φ600*700
50
1850*836*2210
1800*826*2170
RM-HP200L-DA
φ600*700
50
3150*836*2210
3100*826*2170
6
RM-HP300L
φ700*750
50
1700*942*2310
1650*880*2270
4
RM-HP300L-A
φ700*750
50
1900*942*2310
1850*830*2270
RM-HP300L-DA
φ700*750
50
3250*942*2310
3200*830*2270
7
RM-HP400L
φ800*800
50-500
1800*1000*2410
1750*940*2370
4-22
RM-HP400L-A
φ800*800
50-500
2000*1000*2410
1950*940*2370
RM-HP400L-DA
φ800*800
50-500
3400*1000*2410
3550*940*2370
8
RM-HP500L
φ850*900
50-500
2000*1042*2620
1950*980*2580
4-22
RM-HP500L-A
φ850*900
50-500
2200*1042*2620
2150*980*2580
RM-HP500L-DA
φ850*900
50-500
3600*1042*2620
3530*980*2580
Note: "D" Model means double drum, "A" Model means automatic discharge function model, "DA" model means double drum and automatic discharge function model.
Working Video of Vegetable Juice Squeezer Machine
Company Profile
Romiter Machinery Co., Ltd. is a market leading designer and a manufacturer of Vegetable Processing Machine with 20 years experience. Romiter Machinery wins a wide reputation for products with high efficiency, excellent reliability, easy maintenance and long lifespan. Romiter has an excellent technical support team, including highly experienced machinists and service technicians.
Now, Romiter Group provides a complete Vegetable Processing Solution, which includes but is not limited to vegetable washing machine, vegetable peeling machine, vegetable cutting machine, vegetable blanching machine, vegetable sorting machine, vegetable dryer, vegetable juicer machine, vegetable frying machine, vegetable frozen machine and vegetable packing machine.
Romiter Group can provide customized products for customers. Welcome to contact us for more information.