Automatic Air Bubble Vegetable Washing Machine washes dirt attached on the surface of vegetables by air bubble washing, which can be used for many Vegetable & Fruit washing.  It imitates human washing motion and avoids collision or friction damages caused by human washing. Efficiency will be increased because this machine changes human labor to mechanized process. It is suitable for washing fresh vegetables, preserved vegetables, fungus, marine products, etc. This is an ideal equipment for vegetables or food processing industries, catering establishments, and large-scale supermarkets.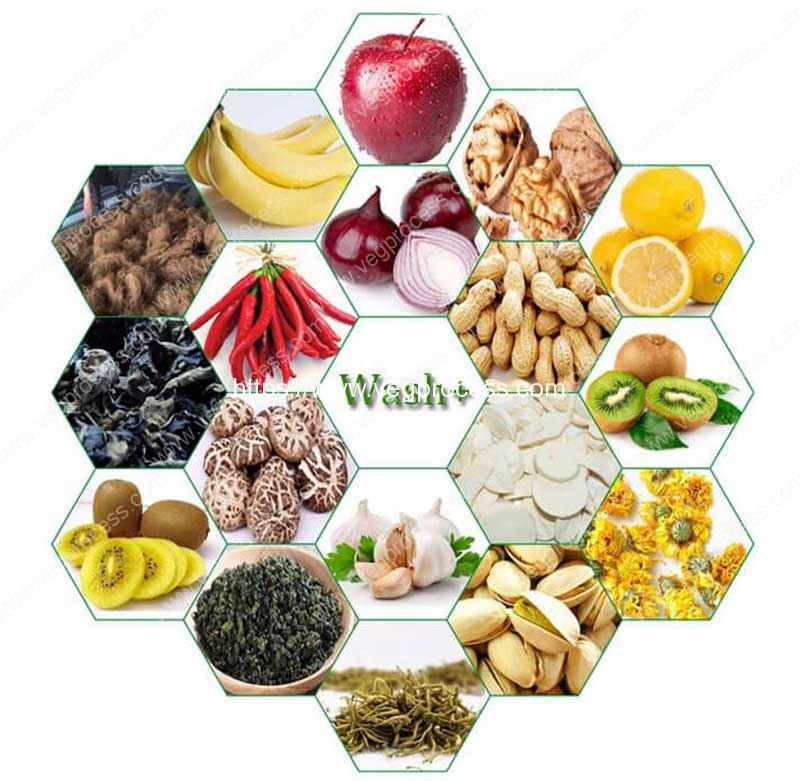 Working Principle of Air Bubble Vegetable Washing Machine
The product enters into the water tank and is scattered, rolled, cleaned and delivered under the action of high-pressure water flow and powerful bubble. The mud removed from the product sinks into an isolation bin at the bottom, ensuring no re-pollution caused by backflow. The floating sundries and bugs are collected by the impurity filter, and if there is wire/hair stuff, brush rollers can be equipped to clean them (there is a bin on the one side of the machine for gathering sundries, bugs, and wire/hair stuff; it is also available for extra water when the working tank is overfull of water). Then the cleaned products are processed by spray cleaning for the following process.
Advantage Feature of Air Bubble Washing Machine
This kind of vegetable fruit washing machine adopts the cleaning principle of high pressure air bubble. It has the advantages of high cleaning ability, high washing rate, wide range of application and no damage to the material.
It is equip with spraying section in order to wash the material thoroughly, the material is automatically conveyed to spraying section by conveyor mesh belt.
It can also be equip with ozone generator for sterilization and disinfection according to customers special requirement.
The machine can also be equip with soft roller, brush roller, purification device and disperse device according to different material.
All of the machine body (excluding motor, reducer, etc.) is made of good quality SUS304, durable and easy to clean.
Labor saving : one worker can operate.
Specification of Potato Air Bubble Water Washing Machine
| | | | | |
| --- | --- | --- | --- | --- |
| Model | Power | Capacity | Weight | Dimension |
| RM-BW3000 | 1.3kw | 1000kg/h | 160kg | 3000*1020*1350mm |
| RM-BW4000 | 2.57kw | 2000kg/h | 220kg | 4130*1010*1550mm |
| RM-BW5000 | 3.37kw | 3000kg/h | 260kg | 5200*1010*1550mm |
Note: we provide customized machine according to customer requirement.
Company Profile
Romiter Machinery Co., Ltd. is a market leading designer and a manufacturer of Vegetable Processing Machine with 20 years experience. Romiter Machinery wins a wide reputation for products with high efficiency, excellent reliability, easy maintenance and long lifespan. Romiter has an excellent technical support team, including highly experienced machinists and service technicians.
Now, Romiter Group provides a complete Vegetable Processing Solution, which includes but is not limited to vegetable washing machine, vegetable peeling machine, vegetable cutting machine, vegetable blanching machine, vegetable sorting machine, vegetable dryer, vegetable juicer machine, vegetable frying machine, vegetable frozen machine and vegetable packing machine.
Romiter Group can provide customized products for customers. Welcome to contact us for more information.