Automatic Bean Sprout Growing Machine is used to grow bean sprout. It is controlled by the microcomputer to accomplish automatic controlling temperature, automatic heating, automatic showing temperature and automatic water spraying and constant temperature. Romiter Bean Sprout Growing Machine is with very high producing efficiency. 1kg bean can produce about 10 kg bean sprout. And the bean sprout is very fresh and delicious. The growing bean sprout is not only with rich nutrition, but also health function.  Automatic Bean Sprout Growing Machine is very easy to operate and can save labor. The worker just put the soaked bean into the bean sprout growing case will be ok. The bean sprout will be done after 3 days.
Bean Sprout Machine is also suitable for alfalfa sprouting, corn buds, pea shoots, buckwheat sprouting, barley seeding, wheat sprouting, green bean sprouting, soybean sprouting, turnip sprouting and so on. It has been widely used for sprouting in the factory, school, mess, supermarket, etc.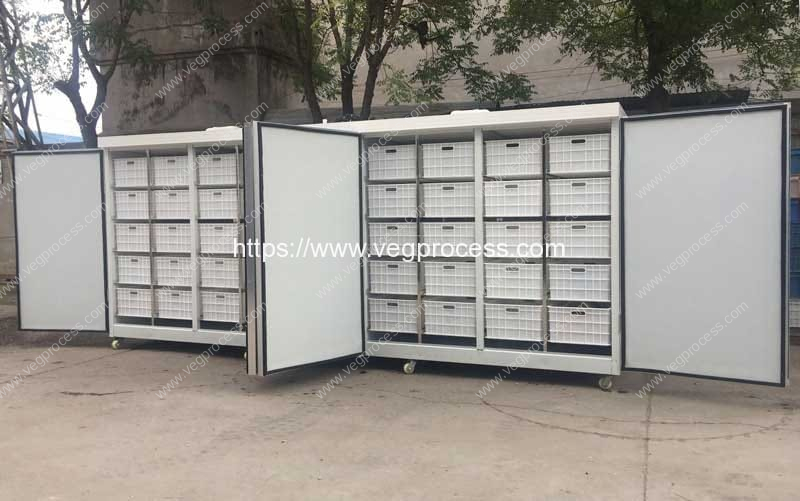 How to Grow Bean Sprouts?
Grow bean sprouts with our bean sprout machine is very easy and convenient, the production process is as follow:  Quality beans–washing and cleaning–soaking inappropriate temperature-put to the bean sprouts machine-start the bean sprouts machine, set reasonable parameters–observe the growth of bean sprouts (3-5days)-Harvest bean sprouts
Specification of Automatic Bean Sprout Growing Machine
| | | | | |
| --- | --- | --- | --- | --- |
| Model | RM-BS60A | RM-BS150A | RM-BS300A | RM-BS500A |
| Capacity | 30kg/day | 75kg/day | 150kg/day | 250kg/day |
| Power | 0.75kw | 0.75kw | 1.25kw | 2kw |
| Growing Box No. | 6pcs | 10pcs | 20pcs | 32pcs |
| Weight | 125kg | 200kg | 310kg | 450kg |
| Dimension | 1.5*0.8*1.5m | 1.5*0.8*1.9m | 2.6*0.8*1.9m | 2.6*1.4*1.7m |
Working Video of Bean Sprout Growing Machine
Company Profile
Romiter Machinery Co., Ltd. is a market-leading designer and a manufacturer of Vegetable Processing Machine with 20 years experience. Romiter Machinery wins a wide reputation for products with high efficiency, excellent reliability, easy maintenance and long lifespan. Romiter has an excellent technical support team, including highly experienced machinists and service technicians.
Now, Romiter Group provides a complete Vegetable Processing Solution, which includes but is not limited to vegetable washing machine, vegetable peeling machine, vegetable cutting machine, vegetable blanching machine, vegetable sorting machine, vegetable dryer, vegetable juicer machine, vegetable frying machine, vegetable frozen machine and vegetable packing machine.
Romiter Group can provide customized products for customers. Welcome to contact us for more information.